I was in Burma the other month and...
Well, the first problem with talking about Burma is what do you call it? It was renamed as the Union of Myanmar in '89, but some people refuse to use that name since it would confer some legitimacy to the military government. On the other hand, some people are unhappy using the name Burma, since that's what the colonial British called it. You can't win, so I'll call it Burma, since I'm old school [1]
Anyhow, I was in Burma the other month, and very excited to finally make it. I had planned to go in 2008, but Cyclone Nargis hit, which put a kibosh on that trip. It affected only a small part of the country, but IIRC, the government was so intent on controlling the message that was getting out, and stopping journalists from running around and reporting on stuff, that they made it very difficult to get in.
Nowadays, it's a completely different story. The government has opened things up for tourism, and while there are still parts of the country foreigners are not allowed to go, it's much easier to get in and travel around, and tourist numbers have been nearly doubling annually for the past few years.
Of course, there's a lot of debate about whether or not people should visit the country, since a lot of your tourist dollars end up in the hands of the government, but many feel (as I do), that small-scale tourism can be very beneficial to people on the street, not only financially but also in terms of bringing in outside knowledge and experiences and influences.
Mrauk-U and Sittwe
Mrauk-U is the old capital of the Arakanese kingdom, with many temples scattered around the town. It's definitely not on the main tourist trail and the area was recently closed off to foreigners due to fighting. Everyone was telling me that road travel was forbidden and you had to fly, but I'd heard word of some people that had made it through by bus, so I decided to give it a shot. Like many things in Burma, there are rules upon rules, but no-one really cares about enforcing them, and I managed to make it all the way by bus. It was a brutal 36-hour trip :bigshock:, including several checkpoints where I slid down in my seat and pulled my cap down over my eyes. Being Asian surely helped a bit there
I was surprised at how developed Sittwe was, with paved roads, small supermarkets and internet cafes. If you squinted just right, it could just be another small town in country Thailand. No buffalo wandering the main road here. There is some tension between the various ethnic groups, and Buddhists and Muslims, and unlike most of the other places I visited, it was clearly visible, with parts of the town blocked off as Muslim-only areas, armed guards blocking entry.


But while checking out temples is fine, I always much prefer just walking around and getting out of town. People were lovely all over Burma, and noticeably honest. There weren't the blatant rip-offs and scams that infest Thailand, and I was happy ordering meals without checking the price first, and letting people pick their change out of my wallet.
And the kids were delightful...
I also love visiting markets. They're noisy and crowded and chaotic and Sittwe's Central Market was all of that, and then some. Sittwe is on the western side of Burma, near India and Bangladesh, and there were an amazing number of different ethnic groups there. I haven't seen a market like this since the souks in the Middle East! Check out those fish!


Yangon (Rangoon)
Yangon was, until recently, the capital of Burma, when the government decided to pick everything up and move it all to Naypyidaw, although it's still the largest and busiest city in Burma.
The extraordinary rate at which things are changing is most apparent here. Most people have mobile phones, and smartphones at that; I saw only a handful of Nokia's during the entire trip. The roads are clogged with modern cars (motorbikes are banned [2] :shock:), and Western-style hotels and cafes and malls are going up all over the place.
I stayed in the downtown area, which is completely overrun with street markets. Cool!
Mandalay
The name Mandalay conjures up so many images but in reality, it's a dusty, polluted, crowded city
However, there was a huge market near where I was staying and I was there in the late afternoon, when the nuns were making their rounds.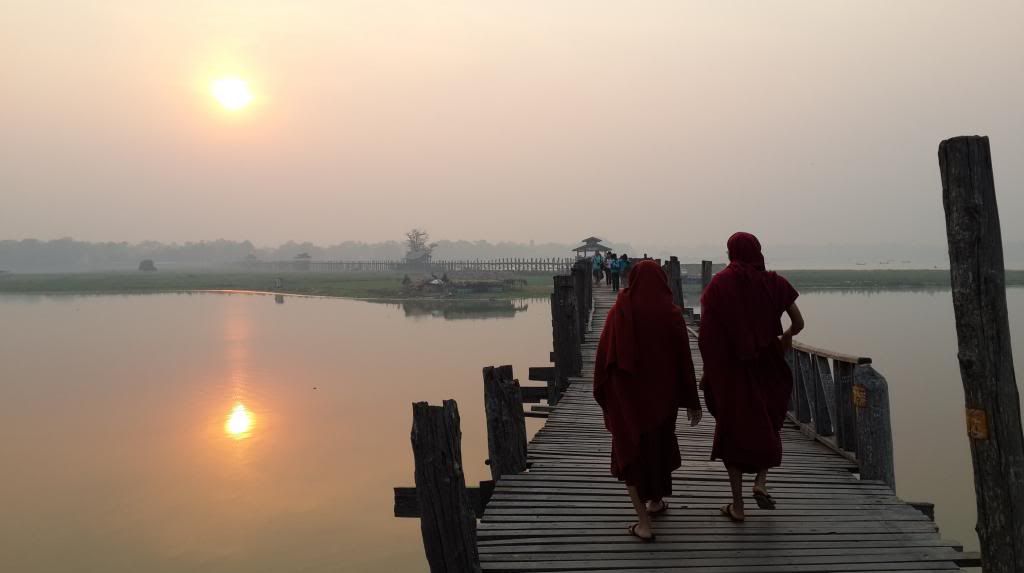 Outside the city, on the other hand, is beautiful. U-Bein bridge is the longest teak bridge in the world and while the guidebook painted a picture of monks daintly crossing it at the break of dawn, the reality was that it was mostly joggers and other people doing aerobics and tai-chi, so the bridge was constantly bouncing up and down. Still very pretty, though...
Bagan
Bagan is one of the tourist hotspots, with hundreds of temples dotted around the countryside. Many of them are still in active use and easily accessible on the small electric bikes that foreigners are allowed to ride. It's just as impressive as Angkor Wat, but there are hardly any people there!




---
As luck would have it, on my last night I saw a post from Ethan Zuckerman about a talk he had recently given in Yangon. Bugger, if I'd've known, I would've gone down. I've been following his work for quite a few years, and his blog is one of those that I recommend to new users of Awasu after they install it.
It was a great post, but I did find one thing that he wrote a bit odd:
... but I am most interested in the question of how the internet may change what it means to be a citizen. There have been great hopes for the internet and democracy, the idea that governments can listen to people's wants and needs more directly, that citizens might vote directly on legislation or help draft new laws, that we might have robust debates in a digital pubic sphere where it's possible for everyone to express their opinions.
I would've thought the more interesting question would be how the internet allows individuals to effect change. One can only assume that during the Arab Spring and other similar events, people weren't using the internet to discuss ideas or vote on new legislation
It's about people connecting with each other, spreading news and information and new ideas, without middlemen, with their agendas and spin, and this is one of the big reasons why I favor small-scale tourism in places like this. The government is slowly opening access to the internet and allowing foreigners in, but I suspect they'll find that once they let the genie out of the bottle, it will be difficult to keep it on a leash

[1] Yes, I also can't get my head around Ho Chi Min City and still call it Saigon.
[2] The rumor is that a general's son was killed by a motorbike.

Posted by Taka
Comments (4)
|
Trackback
|
Permalink
|
Home
4 Responses to this post